4020C Asennuskaiutin
Genelec 4020C on pienikokoinen ja monipuolinen aktiivinen asennuskaiutin, joka soveltuu erilaisiin kohteisiin.
---


Vahvistimen teho
50 W Basso + 50 W Diskantti (Class D)

Taajuusvaste
56 Hz - 25 kHz ("-6dB")

Taajuusvasteen tarkkuus
± 2.5 dB (62 Hz - 20 kHz)


Liitännät
1 x Euroblock Analoginen Sisääntulo
<
4020C Installation Speaker
Tekniset tiedot
Järjestelmän tiedot
Taajuusvaste
62 Hz - 20 kHz (± 2.5 dB)
Alarajataajuus -6 dB
56 Hz
Ylärajataajuus -6 dB
25 kHz
SPL
Maksimiäänenpaine
≥107 dB

Maksimiäänenpaineen piikki, kaiutinpari mitattuna musiikkimateriaalilla 1 metrin etäisyydeltä.
Hetkellinen maksimiäänenpaine
≥100 dB

Lyhyen ajan maksimiäänenpaine siniaallolla puoliavaruudessa, keskiarvo 100 Hz - 3 kHz, 1 metrin etäisyydeltä.
Pitkäkestoinen maksimiäänenpaine
≥93 dB

Pitkän ajan RMS-maksimiäänenpaine samoissa olosuhteissa IEC-painotetulla melulla 1 metrin etäisyydeltä (kaiuttimien suojapiirien rajoittama).
Akustinen pohjakohinataso
Akustinen pohjakohinataso
≤5 dB

Kaiuttimen oma melutaso 1 metrin etäisyydeltä vapaakentässä (A-painotettu).
Paino
Paino
3.1 kg
(6.8 lb)
Mitat
Korkeus
226 mm
Leveys
151 mm
Syvyys
142 mm
Kotelo
Kotelomateriaali
Die cast aluminium
Kaiutinelementit
Basso
Kaiutinelementtityyppi
Cone
Magnetically shielded bass driver.
Halkaisija
105 mm
Diskantti
Kaiutinelementtityyppi
Metal dome
Magnetically shielded treble driver.
Halkaisija
19 mm
Suuntaavuus
Suuntaavuus vaakatasossa
Harmoninen särö
50...200 Hz ≤3 %
> 200 Hz ≤0.5 %
Vahvistimet
Vahvistimet
4020C treble amplifier
50 W Class D
Käyttöjännite
100-240 VAC 50/60Hz
Tehonkulutus
ISS-valmiustilassa
≤0.5 W
Jakosuodin
Liitännät
Sisääntulo

Audio input is via a 10 kOhm balanced connector.
Tarkempia lisätietoja lisäksi tuoteoppaissa.
Kompakti ja tehokas
Genelecin 4000-sarjan aktiiviset asennuskaiuttimet ovat kompakteja ja tehokkaita kaksitiekaiuttimia. Ne on suunniteltu sisäkäyttöön kaupallisiin ja ammattimaisiin AV-asennuksiin. Kaikissa malleissa on integroitu elektroniikka, johon sisältyy aktiiviset jakosuotimet, yliohjauksen suojapiirit, sekä elementtikohtaiset tehovahvistimet.
Pienikokoisessa ja tyylikkäässä Genelec 4020C -aktiivikaiuttimessa on sama ensiluokkainen muotoilu kuin Genelec 8000 -sarjan tarkkailukaiuttimissa. Hallittu suuntaavuus ja kattavat säädöt sallivat kaiutinjärjestelmän asentamisen monentyyppisiin akustisiin ympäristöihin äänenlaadusta tinkimättä.
120 värivaihtoehtoa
4020C-aktiivikaiuttimessa on laadukkaat kaiutinelementit, elementtikohtaiset tehovahvistimet, aktiiviset jakosuotimet ja yliohjauksen suojapiiri. 4020C on tarkoitettu käytettäväksi sisätiloissa. Siinä on Genelecin Intelligent Signal Sensing (ISS) -toiminto, joka kytkee kaiuttimen automaattisesti valmiustilaan, kun toisto on päättynyt. ISS-toiminto on ErP 2013 -direktiivin mukainen.
4020C on saatavana erikoistilauksesta RAL Classic-väreihin maalattuna. Nämä Genelecin tarjoamat 120 eri värivaihtoehtoa varmistavat kaiuttimien yhteensopivuuden lähes minkä tahansa sisustustyylin tai väriteeman kanssa.
Avainteknologiat
Directivity Control Waveguide (DCW™)
Minimum Diffraction Enclosure (MDE™)
Reflex Port Design
Room Response Compensation
Optimized Amplifiers
Active Crossovers
Protection Circuitry
Intelligent Signal Sensing (ISS™)
Versatile Mountings
Directivity Control Waveguide (DCW™) -suuntain tuottaa tasaisen taajuusvasteen laajalle kuuntelualueelle.
Vallankumouksellinen Directivity Control Waveguide™ (DCW™) -teknologia parantaa huomattavasti suoraan säteilevän monitiekaiuttimen suorituskykyä.
Tavoite on sovittaa taajuusvaste ja elementtien suuntaavuus kaiuttimessa. Lopputuloksena saavutetaan erinomainen taajuusvaste sekä kaiuttimen akustisella akselilla että sivusta mitattuna.
Parantunut kontrolloitu suuntaavuus vähentää huoneheijastumia kuuntelupaikalle. Tämä parantaa stereokuvaa ja asettaa vähemmän vaatimuksia huoneakustiikalle.
DCW-teknologia parantaa elementin herkkyyttä jopa +6 dB:ä, mikä mahdollistaa suuremman kokonaisäänenpaineen vähentäen samalla säröä ja parantaen luotettavuutta.
###DCW™-suuntaimen tärkeimmät edut:
Tasainen taajuusvaste laajemmalle kuuntelualueelle
Parantunut suoran äänen suhde heijastuneeseen ääneen vähentää tilan vaikutusta lopputulokseen
Tarkempi stereokuva
Parantunut elementtien hyötysuhde
Järjestelmän suurempi maksimiäänenpaine
Pienentynyt elementtien särö
Vähemmän kaiutinkotelon reunan aiheuttamaa äänen heijastumista
Parantunut elementtien luotettavuus, koska saman äänenpaineen tuottamiseen tarvitaan vähemmän tehoa ja pienempi kalvon liikepoikkeama
Minimum Diffraction Enclosure (MDE™) -kotelo tuottaa värittymättömän äänen.
Etulevyn akustisista epäjatkuvuuskohdista syntyvä diffraktio on tyypillinen vapaasti sijoiteltavan kaiuttimen ongelma. Kotelon terävät kulmat aiheuttavat heijastuksista johtuvia toisioäänilähteitä, jotka värittävät ääntä ja heikentävät äänikuvan tarkkuutta.
Parantaakseen vapaasti sijoiteltavan kaiuttimen taajuusvasteen sekä tehovasteen tasaisuutta, Genelec on kehittänyt innovatiivisen Minimum Diffraction Enclosure (MDE™) -kaiutinkotelon, jossa on kaarevat sivut sekä pyöristetyt kulmat. Poikkeuksellisen tasaisen taajuusvasteen lisäksi kotelorakenteella saavutetaan erinomaiset äänikuvaominaisuudet.
Kompaktin ja tyylikkään ulkoasun saavuttamiseksi kotelon materiaaliksi on valittu painevalettu alumiini, joka mahdollistaa kotelon kokoon suhteutettuna suuren sisätilavuuden bassoelementin herkkyyden maksimoimiseksi. Alumiini on kevyttä, jäykkää ja hyvin vaimentavaa, joten se on erinomainen materiaali ohutseinäisen ja akustisesti "kuolleen" kotelon valmistamiseen. Alumiinikotelo suojaa tehokkaasti elektromagneettiselta säteilyltä ja se toimii myös vahvistimien jäähdytyselementtinä. Kotelo valetaan kahtena kappaleena, jolloin se pystytään avaamaan helposti esimerkiksi huoltoa varten.
Directivity Control Waveguide (DCW™) -suuntain integroidaan MDE™-koteloon hallitun suuntaavuuden saavuttamiseksi. Vakiosuuntaavuuden alarajataajuus määräytyy suuntaimen koon perusteella, jolloin suuremmalla suuntainpinta-alalla saavutetaan hallitumpi suuntaavuuskäyttäytyminen. Hallittu sivukenttäsäteily mahdollistaa suuren käyttökelpoisen kuuntelualueen, mikä on erittäin tärkeää monikanavaisessa äänentarkkailussa. Hallittu suuntaavuus vähentää myös rajapintaheijasteiden merkitystä, jolloin monitorointijärjestelmä toimii johdonmukaisesti erilaisissa akustisissa ympäristöissä.
Edistynyt refleksiputken muotoilu parantaa bassotoiston ulottuvuutta.
Genelec käytti bassorefleksirakennetta jo ensimmäisessä tarkkailukaiuttimessaan S30:ssa vuonna 1978. Genelec on siitä lähtien tutkinut ja kehittänyt refleksiputken suorituskykyä sekä tehokkuutta. Kehitystyön tavoite on ollut parantaa bassotoiston ulottuvuutta ja äänenpainekapasiteettia erinomaisen matalien taajuuksien artikulaation ja tarkkuuden tuottamiseksi.
Sekä bassoelementti että refleksiaukko vaikuttavat refleksikotelon kokonaissäteilyyn. Suurin osa säteilystä on lähtöisin elementistä, mutta refleksikotelon resonanssitaajuudella elementin liikepoikkeaman amplitudi on pieni, jolloin suurin osa säteilystä tulee aukosta.
Virtausnopeuden minimoimiseksi putken poikkipinta-alan täytyy olla suuri. Kaiutinkotelon koko rajoittaa usein refleksiputken pituutta.
Pitkä kaareva refleksiputki maksimoi ilmavirtauksen, jotta kaiutin pystyy tuottamaan syvän bassotoiston ilman kompressiota. Putki päättyy leveään pyöreäreunaiseen aukkoon, joka sijaitsee kotelon takana minimoiden putken virtausääniä ja tuottaen erinomaisen bassoartikulaation.
Putken kaareva muoto on tarkoin suunniteltu ja se vähentää virtausääniä, kompressiota ja säröä. Putken sisäpään muotoilu minimoi suorille refleksiputkille tyypillisiä yskähdysääniä ja turbulenssia.
Huolellisesti suunniteltu refleksiputken rakenne vähentää bassoelementin liikepoikkeamaa ja parantaa matalien taajuuksien toiston lineaarisuutta sekä äänenpainekapasiteettia.
Huonevasteen kompensointi mahdollistaa kaiuttimen sovittamisen akustiseen ympäristöön.
Huoneakustiikan ja kaiuttimen säteilyn välinen suhde on monimutkainen asia. Jokainen tila vaikuttaa tarkkailukaiuttimen vasteeseen omalla tavallaan – esimerkiksi heijastavat ja vaimentavat tilat – samoin kuin kaiuttimen sijoittaminen seinää vasten tai irti seinästä.
Kaikissa Genelecin kaiutinjärjestelmissä on huonevasteen korjaus, joka kompensoi tilan vaikutuksia äänentoistoon ja tuottaa tasaisen taajuusvasteen kuuntelupaikassa.
Analogiset järjestelmät
Genelecin analogiset kaiutinjärjestelmät tarjoavat monipuoliset huonevasteen säätömahdollisuudet. Säätömahdollisuuksia ovat (kaiutinmallista riippuen):
Bass Roll-Off ja Bass Tilt
Treble Tilt ja Treble Roll-Off
Bass Level
Midrange Level
Treble Level
Desktop Control
Matalilla taajuuksilla käytettävissä on kaksi pääsäätöä. Bass Tilt toimii hyllysuodattimena, kun taas Bass Roll-off sallii optimoida matalien ja erittäin matalien taajuuksien taajuusvastetta eri kohteissa. Bass, Midrange ja Treble Level ovat käytettävissä isoissa järjestelmissä. Nämä säädöt optimoivat eri päästökaistojen välistä suhteellista tasapainoa.
Kunkin kaiuttimen käyttöohje ja datalehti sisältävät luettelon erilaisten asennusten ensisijaisista huonevasteasetuksista. Ne on määritetty pitkän käytännön kokemuksemme ja erilaisissa akustiikkaympäristöissä tekemiemme mittausten perusteella.
Smart Active Monitor (SAM™) -tarkkailukaiuttimet
Genelecin SAM-järjestelmät ovat kokonaisvaltainen, ratkaisukeskeinen, älykkäästi verkostoituva tuotevalikoima, jonka kaikki tuotteet käyttävät Genelec Loudspeaker Manager (GLM™) -ohjelmistoa ja automaattisesta AutoCal™-kalibrointitekniikkaa.
Genelec AutoCal on alan ensimmäinen täysin integroitu ja automaattinen prosessi GLM-ohjausverkkoon liitettyjen kaiuttimien mittaamiseen, analysointiin ja kalibrointiin. Järjestelmä mittaa kuuntelualueen vasteen ja tekee tarvittavat kompensaatiot matalilla ja matalilla keskitaajuuksilla ja minimoi näin huoneakustiikkaa heikentävät poikkeamat ja eri kuuntelupaikkojen väliset erot. AutoCal sovittaa kaikkien verkon kaiuttimien suhteelliset tasot, kompensoi etäisyyseroja ja säätää kaikkien verkon alabassokaiuttimien jakosuodinvaiheet (AutoPhase).
Acoustic Response Editor tarjoaa tarkan graafisen esityksen mitatusta vasteesta, suodatuksen kompensoinnista ja kunkin kaiuttimen järjestelmävasteesta sekä mahdollisuuden akustiikka-asetusten manuaaliseen säätämiseen.
Elementtikohtaisesti optimoidut tehovahvistimet.
Elektroniset jakosuotimet jakavat audiosignaalin taajuuskaistan osiin, jotka voidaan ohjata erillisiin vahvistimiin. Vahvistimet on liitetty kyseiselle taajuuskaistalle optimoituihin muuntimiin.
Tyypillisessä kaksitiekaiuttimessa aktiivinen jakosuodin tarvitsee kaksi vahvistinta: yhden bassoelementille ja toisen diskanttielementille. Vahvistimet liitetään suoraan aktiivikaiuttimien elementteihin, jolloin vahvistimien kuormitus on tunnettu ja yksinkertaisempi. Jokaisella elementtikohtaisella vahvistimella on vain rajallinen taajuusalue, jota se vahvistaa (vahvistin sijoitetaan aktiivisen jakosuotimen taakse), mikä yksinkertaistaa rakennetta.
Aktiivisella rakenteella on useita etuja:
Vahvistimet liitetään suoraan kaiutinelementteihin, mikä tehostaa vahvistimien elementin äänikäämin vaimennuksen hallintaa ja vähentää dynaamisten muutosten esiintymistä elementin sähköominaisuuksissa. Se saattaa parantaa järjestelmän siirtymävastetta.
Vahvistimen lähtövaatimukset ovat pienemmät. Kun energiaa ei mene hukkaan passiivisen jakosuotimen komponenteissa, vahvistimen tehovaatimukset ovat huomattavasti pienemmät (jopa puolta pienemmät joissakin tapauksissa) ilman, että kaiuttimen akustinen teho heikkenee. Tämä saattaa pienentää kustannuksia ja parantaa äänenlaatua ja järjestelmän luotettavuutta.
Kun vahvistimen ja elementin välissä ei tapahdu hävikkiä, saavutetaan äärimmäinen akustinen tehokkuus.
Aktiivinen teknologia pystyy tuottamaan ylivoimaisen äänentoiston suhteessa kokoon ja matalaan alarajataajuuteen.
Kaikki kaiuttimet toimitetaan tehtaalla sovitettuina järjestelminä (vahvistimet, jakosuotimet ja kotelo-elementtijärjestelmät).
Aktiivisessa jakosuotimessa käsitellään linjatasoista signaalia.
Aktiiviset jakosuotimet jakavat audiosignaalin taajuuskaistoihin, jotka ohjataan erillisiin tehovahvistimiin. Vahvistimet on kytketty kyseiselle taajuuskaistalle optimoituihin kaiutinelementteihin.
Aktiivikaiuttimissa käytetään sekä digitaalisia että analogisia jakosuotimia. Genelecin digitaalisissa aktiivijakosuotimissa on myös muita signaalinkäsittelytoiminnallisuuksia, kuten elementtien suojaus, lentoaikakompensointi ja taajuuskorjaus.
Genelecin analogisissa aktiivijakosuotimissa perustuu elektronisiin komponentteihin, jotka käsittelevät matalatasoista signaalia ennen tehovahvistusta. Aktiiviset jakosuotimet eroavat toimintaperiaatteeltaan passiivisista jakosuotimista, joissa käsitellään voimakkaita signaaleja, suurta virtaa ja toisinaan myös suurta jännitettä.
Tyypillisessä kaksitiekaiuttimessa tulosignaali jakosuodatetaan kahdelle erilliselle tehovahvistimelle, joista toinen ohjaa bassoelementtiä ja toinen diskanttielementtiä.
Aktiivisella jakosuodinteknologialla on useita etuja:
Elementin sähködynaamiset muutokset eivät vaikuta taajuusvasteeseen.
Signaalia voidaan säätää joustavasti käytettävän elementin ominaisuuksien mukaisesti.
Jokaisen elementin tulosignaali prosessoidaan ja vahvistetaan yksilöllisesti. Yksittäisten elementtien signaalit eivät häiritse toisiaan, mikä vähentää keskeismodulaatiosäröä ja yliohjausongelmia.
Elementtien välisiä herkkyyseroja voidaan kompensoida.
Elementin ominaisuuksiin liittyviä taajuus- ja vaihevasteen poikkeamia voidaan kompensoida halutulla päästökaistalla.
Aktiivinen jakosuodin mahdollistaa lisäksi taajuusvasteen säätämisen sekä kaiuttimen optimoinnin kaiutinjärjestelmään ja erilaisiin kuunteluympäristöihin ilman ulkoisia taajuuskorjaimia. Tuloksena on yksinkertainen, luotettava, tehokas, tarkka ja johdonmukaisesti käyttäytyvä aktiivikaiutinjärjestelmä.
Yliohjauksen suojapiiri takaa turvallisen käytön ja elementtien pitkäikäisyyden.
Kriittisissä audiotuotantoympäristöissä on ratkaisevaa, että monitorointijärjestelmä on luotettava ja aina käytettävissä. Yksi tärkeimmistä syistä Genelecin menestykseen lähetystarkkaamokäytössä on tuotteidemme luotettavuus. Luotettavuuden takeena on sisäinen suojapiiri, joka on ollut kaikissa tuotteissa vuodesta 1978 lähtien.
Suojapiiri ehkäisee elementtien vikatiloja havaitsemalla signaalitasoja. Mikäli signaalissa esiintyy yhtäkkisiä piikkejä tai jatkuvia liian korkeita tasoja, suojapiiri laskee signaalin tasoa automaattisesti. Suojapiirin toiminta ei luonnollisestikaan vaikuta äänenlaatuun millään tavalla työskenneltäessä kaiuttimen määritellyissä käyttöolosuhteissa. Se vain ehkäisee signaaleja rikkomasta kaiutinta.
Suojapiirin ominaisuudet ja edut:
Laskee signaalin tasoa tarvittaessa (esimerkiksi kun elementin äänikäämin lämpötila saavuttaa turvarajan), mikä parantaa kaiuttimen luotettavuutta merkittävästi.
Jokaisen kaiuttimen ja alabassokaiuttimen sopiva suojapiirirakenne sallii järjestelmän äänitason maksimoimisen.
Intelligent Signal Sensing (ISS™) -valmiustilatoiminto vähentää virrankulutusta.
Genelec kehitti vuonna 2013 Intelligent Signal-Sensing -piirin, joka täyttää sekä ErP-direktiivin vaatimukset että Genelecin omat direktiiviä tiukemmat vastuullisuusvaatimukset.
ISS™-piiri seuraa kaiuttimien signaalinsyöttöä ja havaitsee, milloin signaali on käytössä. Jos ISS-piiri ei havaitse audiosignaalia hetkeen, se asettaa kaiuttimen valmiustilaan, jossa kaiuttimen virrankulutus on alle 0,5 wattia. Kun syöttösignaali havaitaan, kaiutin kytkeytyy päälle itsestään. Kaiutinjärjestelmä alkaa siis säästää sähköä heti, kun työskentely katkeaa.
Jokaisen kaiuttimen taustalevyssä on huonevasteen säätimien vieressä ISS Disable -kytkin. Kun päävirtakytkin on asennossa ON, ISS™-toiminto on oletusarvoisesti päällä.
Jos ISS-toimintoa ei haluta käyttää, se voidaan poistaa käytöstä kääntämällä ISS Disable -kytkin asentoon ON. Tällöin kaiuttimen virransyöttöä ohjataan päävirtakytkimestä.
Päävirtakytkin katkaisee kaiuttimen virransyötön kokonaan.
Monipuoliset kiinnitysvaihtoehdot soveltuvat useimpiin asennusratkaisuihin.
Genelecin kaiuttimissa on monipuoliset ripustusmahdollisuudet, jotka tekevät asennuksesta helppoa kaikissa kohteissa. Oikein sijoitetut kaiuttimet käyttäytyvät ihanteellisesti erilaisissa käyttöympäristöissä.
Laaja lisävarustevalikoimamme ja painevalettujen alumiinikoteloiden takalevyihin integroidut kiinteät M6-kiinnityspisteet tarjoavat ratkaisun useimpiin asennustilanteisiin. Pienissä kaiutinmalleissa kotelon pohjassa on 3/8-tuuman kierreinsertti, jota käyttäen kaiutin voidaan asentaa tukevaan mikrofonitelineeseen tai jalustaan. Suuremmissa ja painavammissa malleissa on M10-kiinnityspisteet. Lattiatelineisiin on saatavilla myös mallikohtaiset Iso-Pod jalusta-adapterit, joiden avulla saavutetaan kattavat säätömahdollisuudet sekä hyvä mekaaninen eristys kaiuttimen ja jalustan välille.
Näiden ominaisuuksien ansiosta tuotteitamme käytetään nykypäivänä ammattikäyttökohteiden lisäksi sekä julkistiloissa että kotikohteissa kaikkialla maailmassa.
Dokumentit
UKK
Mounting your monitors with our accessories
Genelec offers you a wide variety of functional and smart mounting accessories for different installations. With our mounting equipment it is possible to mount loudspeakers, whether you are seeking monitor stands, wall mounts or ceiling mounts. Our accessories range includes floor and table stands, ceiling and wall mounts, adapters, slatwall mounts, but also flush-mounting and rack-mounting kits. For a complete overview of our accessories offering, please visit our accessories page.
Genelec aims high at the Atrium in Aarhus
The Hotel Royal in Aarhus is the city's oldest hotel. Beautifully restored, it has been welcoming guests since 1838. Ideally situated in the heart of the bustling Danish city, Hotel Royal is flanked by the majestic cathedral on one side, lively cafés by the river on the other, the charming Latin quarter to the back and the busy harbour to the front. In addition to its generously proportioned and lavishly appointed rooms behind an elegant Neoclassical façade, Hotel Royal also houses the beautiful Atrium restaurant and bar, which was recently updated with a premium Genelec sound system.
For venues that rate quality above everything else — Genelec is the perfect choice
Atrium is a gastronomic oasis of calm in the heart of the city hubbub. So named for its beautiful conservatory-style glass pyramid roof, Atrium is the brainchild of chefs Søren Jakobsen and William Jørgensen, who own and run the Michelin -starred restaurant Gastromé, situated just one street over from Atrium. Their style of modern Nordic cooking with an emphasis on carefully balanced seasonal ingredients is clearly recognisable at Atrium, earning the restaurant a listing in the coveted Michelin guide. A recent renovation saw the installation of a Genelec sound system based on the ubiquitous 4000 Series of installation loudspeakers, providing high quality audio to match the excellence of the surroundings.
Specialist AV integrator and audio expert, Thomas Vestergaard, was called in to design and integrate the new system. "The requirement was for a high quality background sound system that would provide crystalline, detailed audio at low levels. The aim is to provide a relaxed, comfortable ambience for diners without competing with their conversation," he says. "The particular challenge of this space was the abundance of hard, reflective surfaces — essentially the bar and restaurant are situated inside a glass conservatory, so just about everything except the floor and the furniture are glass! This is not ideal from an audio point of view, so it made the choice of high quality loudspeakers even more essential. Genelec fits the bill perfectly."
Their beautiful aesthetics make them easy to install and their active design makes installation simple
Vestergaard specified and installed a total of five compact 4020 loudspeakers in a star configuration around the outer rim of the restaurant, connected to an analogue zone mixer with inputs for a music player and a DJ. "We opted for the 4020s as they are physically very discreet, and as the space is not large, they are powerful enough to cover it with ease," remarks Vestergaard. "As the speakers are all pointing into the restaurant from the outer wall in a circle, we had to be extremely careful with speaker positioning and alignment to avoid any nasty reflections or signal interference. We used the room response controls on the back of the speakers to optimise frequency response, and the results are stunning."
Genelec's installation loudspeakers are often Vestergaard's 'go to' choice for this type of application. "For venues that rate quality above everything else — they are often high-end establishments themselves — Genelec is the perfect choice," he clarifies. "Genelec sound quality is legendary, and from a design point of view, their beautiful aesthetics make them easy to install just about anywhere without the interior designer biting your head off! Their active design makes installation simple, as there is no need for bulky external amplifiers or the associated cabling, and Genelec has an extensive and well thought-out range of mounting accessories which makes life very easy for integrators. Finally, you know that once installed, they'll provide decades of reliable, trouble-free service. What's not to like?!"
Genelec adds Nordic flair to Cuban vibes in Aarhus, Denmark
"Madam Cuba is a simple but classy lady. Her passion for sharing an authentic Cuban experience has created a new level of refined and delicious drinks and cocktails." So say the owners of the new Madam Cuba bar, ideally situated on the banks of the river Aarhus which flows through the historic Danish city of the same name. Dedicated to the art of cocktails and conversation, Madam Cuba wanted a premium sound system to enhance the Latin vibes and keep their customers entertained until the early hours. Local pro audio specialist Thomas Vestergaard specified a Genelec solution based on the ubiquitous 4000 Series installation loudspeaker range, in the RAW aluminium finish.
The active design removes the need for bulky amplifiers and associated cabling, simplifying the installation
"As a high end bar serving a fabulous range of sophisticated drinks, Madam Cuba naturally wanted a sound system of the same calibre," remarks Vestergaard. "They weren't necessarily looking for a high powered system – the emphasis really is on an atmosphere where the quality of the sound combined with drinks and conversation all meld together for the perfect night. The keywords as far as audio is concerned were comfort and coverage. These are areas in which Genelec excels, so it was an easy choice. The gorgeous RAW aluminium finish – which looks amazing against the distressed brick walls of the bar's interior – was the cherry on the cake."
Vestergaard specified four powerful 4040s supplemented by a 7370 subwoofer for the DJ area in front of the bar, and nine compact 4030s with three 7050 subs for the mezzanine sofa/table area. Two compact 4020s in a bright yellow custom RAL finish keep the atmosphere alive in the rest rooms. Control is handled through a DBX zone controller running four zones with local control situated behind the bar.
The wide range of bracket options means that you can install them pretty much anywhere you like
"We decided on the 4040s for the DJ/bar area plus the sub, because even though the brief was for background sound rather than a full PA system, when the bar is crowded, the noise levels can be quite considerable. The sound system needs to make an impact above that, but without giving the impression that it's really loud and that you have to compete with it to make yourself heard," explains Vestergaard. "The 4040s are pretty powerful but having the sub as well just adds a bit more bass extension for a really full, rich sound with bags of headroom to spare. The system is just purring rather than roaring."
For the mezzanine area which is slightly removed from the bar, Vestergaard has opted for the same approach but slightly scaled down in terms of power. "The aim is that customers feel enveloped by the sound but not aggressed by it," he clarifies. "They should just be enjoying the atmosphere and soaking up the Latin vibes at comfortable levels for a fun night out.
"Genelec loudspeakers are an excellent choice for this sort of application," concludes Vestergaard. "They sound amazing out of the box, and the room response controls on the back offer further adjustments to tailor frequency response as required. The active design removes the need for bulky amplifiers and associated cabling, thus simplifying the installation process – always a plus – and finally the wide range of bracket options means that you can install them pretty much anywhere you like. They look as good as they sound, and the clients are invariably delighted with the end results."
Genelec delivers a RAW experience behind bars in former prison-turned-hotel
Whilst the food and bedding are much improved upon its former prison days, much of the original architecture has been preserved, and there is no shortage of chains and handcuffs dotted around to remind guests of where they really are…
Rooms aside, Hotel Kakola also offers extensive conference and banqueting facilities in a unique setting. The company turned to Genelec partner and specialist AV integrator, Hifistudio Esitystekniikka to design and install a comprehensive sound system across all of the public areas of the hotel.
"The client wanted a high quality audio system capable of handling low level, high quality background music for the restaurant areas as well as crystal clear vocal reinforcement for conferencing purposes. The system also had to be capable of handling 'easy' live music when required," explains Antti Vuorilahti, co-owner of Hifistudio. "It was also important for them to use domestic suppliers where possible in an effort to support the economy, reduce their carbon footprint and work against climate change, so the decision to use Genelec was a very easy one."
Vuorilahti specified 24 compact Genelec 4020 and two powerful 4040 loudspeakers in RAW aluminium finish across three separate zones: the reception area; restaurant Ruben, located in the former prison canteen; and a versatile space known as the Pavilion which can be rented separately or combined with other restaurant facilities for larger events. It can also be used as a workspace and even divided into smaller units with the help of light wall structures.
"The RAW finish is ideal for Kakola," emphasises Vuorilahti. "The industrial look fits perfectly into the 'prison' ambience and from a sustainability point of view, it ticks all the boxes as it requires no painting and less finishing material. Like most Genelec loudspeakers, the enclosure is made from recycled aluminium, and of course the sound quality is exceptional." Another important point was the choice of active loudspeakers which reduces cabling and removes the need for external amplifier racks, making installation faster, easier and more discreet.
Symetrix Prism 8x8 digital signal processors provide effortless control over a Dante network for each of the zones. "Symetrix supplies high quality products that marry well with a Genelec solution," says Vuorilahti. "They are easy to configure and – something that was high on the hotel team's agenda – very easy to use. Symetrix touch panels in each zone allow hotel staff to select and control the sound sources in every area and even mix them if necessary. It's all very neat, tidy and straightforward and delivers excellent results."
Kakolanruusu, a restaurant that is also housed in the former prison building but under separate ownership from the hotel, has likewise been supplied with a Genelec 4000 Series audio solution, also designed and installed by Hifistudio.
Vuorilahti selected 14 mid-sized Genelec 4030 loudspeakers in white to deliver ambient background music with the ability to adapt to larger events when required. "Kakolanruusu caters for corporate groups as well as for private diners," explains Vuorilahti. "Their spaces are fully equipped with screens and video projectors, so it was crucial that they had a high quality PA system to match. Genelec was an obvious choice for all the same reasons of reliability, sustainability and Finnish heritage. Like Hotel Kakola, we've provided a Symetrix Prism DSP (12x12) and touchscreen that offers the same easyto-configure, easy-to-operate control for an efficient system that looks as good as it sounds.
"From an integrator's point of view, we have complete faith in Genelec as a company as well as in their products," he continues. "Their service is excellent at every level, both pre- and post-sales, technical or whatever it is you need – there is always someone ready to help – and of course the products themselves are excellent. It's rare that we have a problem with a Genelec installation, but if we do, it's never a problem for long.
"Both of these projects – Hotel Kakola and Kakolanruusu – have been thoroughly enjoyable, even if we were faced with certain time constraints. We're proud to have assisted with the transformation of a former prison into what it is today, and preserved a bit of Finnish history using Finnish products."
Genelec is the magic ingredient in Farang's recipe for success
Since their beginnings in 2009, the company has opened seven more restaurants and a cocktail bar in the Finnish capital of Helsinki and employs around 200 people. Farang, their flagship venue, has recently relocated to stunning new premises spread over two floors offering both public and private dining facilities plus a large bar. A key part of the overall experience is the soundscape, delivered by a comprehensive 4000 Series Genelec sound system, designed and installed by renowned Finnish AV integration specialists, 4Business Oy.
"The brief from Matti was very clear," explains 4Business's Janne Lankinen: "With the new premises, Farang is set to make even more of an impact on the Helsinki restaurant scene, so sound quality - along with everything else - had to be absolutely top notch. Genelec was an obvious choice for us as it matched all of the quality and reliability criteria – and Matti was already familiar with the brand as he'd used Genelec almost exclusively for his other restaurant projects.
"The layout and the surfaces of Farang were a bit of a challenge from an audio perspective," Lankinen describes. "The feel is quite industrial with lots of exposed concrete and metalwork. There are no convenient - and sound-absorbing - false ceilings or wall panels to hide behind, so we had to make sure that all cabling, mountings and installation were done properly as everything was visible. It also meant we had to be very careful with our system design in order to minimise unwanted reflections and reverberations. The restaurant is situated in a building which also houses newly renovated offices, so we also had to ensure that there was no sound conduction through the structure to the other premises in the building, especially for the low frequencies. Finally, the restaurant is spread over two floors with a very large opening between them; not only did we need to design a system that would cover the whole area evenly with no dead spots or hotspots, but we were inevitably confronted with problems of sound leakage between the two floors."
Lankinen and his team conducted exhaustive simulations to determine coverage before specifying a system comprising a total of 54 active Genelec loudspeakers and subwoofers. "We decided on the analogue 4000 Series loudspeakers - with Symetrix Prism DSP processors equipped with Dante I/O expanders for matrixing, EQ and delay - as it was a useful approach to optimise the overall cost," notes Lankinen. "Our aim was to ensure that when you move around the space, the audio experience remains similar throughout, and that the sound pressure would not drop at any point in a way that you'd feel that the music was disappearing.
"We used a mixture of 4020s, 4030s and the powerful 4040s depending on required throw and maximum SPL. Every single speaker was meticulously aligned and DSP was adjusted individually for the best possible results. That, together with acoustic treatment to minimise leakage between floors has enabled us to achieve a system that works beautifully at low sound pressure levels throughout the restaurant, and still has enough power in reserve to be turned up when required for a real party atmosphere."
For the 7300 Series smart active subwoofers that are mounted in the ceiling, 4Business designed a custom mounting solution that is mechanically isolated from the structure. This ensures that any vibrations are conducted into Sylomer absorbers rather than the hollow core slab which might cause unwanted disturbance elsewhere in the building. When it came to calibrating the subwoofers, 4Business used Genelec's GLM software with AutoCal to speed up the final adjustment process and ensure that every element of the system was sounding its best.
Responsibility and sustainability are key principles for Farang, and Genelec supports and communicates these values.
"I'm delighted with the results," reports Lankinen. "The audio system supports the Farang brand as a top-class, place-to-be venue in Helsinki. What's more, responsibility and sustainability are key principles for Farang and BW Restaurants, and Genelec supports and communicates these values consistently, making them a perfect match. The atmosphere in the restaurant is social and relaxed thanks to carefully thought-out playlists and high quality sound support."
We have crystal clear audio throughout that sounds amazing, yet doesn't get in the way of conversation.
Matti Wikberg echoes Lankinen's sentiments entirely. "All my goals have been achieved, and frankly, exceeded," he admits. "Janne and his team identified the challenges from the outset and solved them beautifully. We have crystal clear audio throughout that sounds amazing, yet doesn't get in the way of conversation, whether you're two or ten people at the table. The right atmosphere enhances the experience immeasurably, and that's what we've achieved here."
Genelec sustains top Finnish law firm with quality audio solution
Castrén & Snellman is one of Helsinki's premier law firms with an enviable reputation in mergers, acquisitions and other specialised fields of business law. The company is also a pioneer of sustainable business practice in the legal services industry and was the first Finnish law firm to join the UN Global Compact initiative. The company recently carried out an extensive renovation of their client areas and staff workspaces, with the goal of taking the iconic 130-year old law firm to the next level. Castrén & Snellman turned to renowned Finnish AV integrator, 4Business Oy, who specialise in delivering tailored AV and automation systems. The solution integrated a large number of Genelec loudspeakers for flawless audio quality throughout the building.
Genelec products are a perfect match for the customer's high quality standards.
"Genelec was simply an ideal choice for this project," states 4Business COO Janne Lankinen. "On top of Genelec's product quality, visual appearance and neutral sound reproduction, the company's values and commitment to sustainable development fit beautifully into the original brief. Our aim was to modernise Castrén & Snellman's activity–based office, including lobby areas, meeting rooms, conference rooms and training facility, with the requirement that the technology solutions would be as reliable and future proof as possible. Genelec products are a perfect match for the customer's high quality standards, and their product lifecycle is the longest in the industry. Thanks to their sophisticated design and smart in-room calibration capabilities, Genelec products also reproduce the human voice very naturally, which makes them an excellent choice for video conferencing and speech reproduction systems."
4Business installed a wide variety of Genelec speakers throughout the space depending on function, ranging from a pair of powerful 8351 Smart Active loudspeakers supplemented by two 7360 subwoofers in the 100-capacity event space, to the very compact 4010 and 4020 installation speakers for the wide variety of conference and board rooms.
Castrén & Snellman's ICT Specialist, Mikko Kurhela, who worked closely with 4Business and Genelec throughout the project, describes the new system in their 100-person event space: "The solution we chose for music, speech and multimedia consists of two carefully tuned 8351 Smart Active loudspeakers, with two 7360 Smart Active subwoofers and an automatic mixer, all integrated into an easy-to-use AV system. The space is rectangular with the direction of presentation from the long wall into the room, so we needed wide angle speakers to ensure that speech is reproduced throughout the space with clarity and intelligibility. We also wanted high quality sound at low frequencies for music and multimedia, which we got by adding the two 7360 subwoofers. The speakers and subwoofers were tuned for the room using Genelec's GLM calibration software."
The Paja gym uses four ceiling-mounted 4020 speakers linked to a Sonos Port player for wireless music playback, while the music and speech sound system in the Tori café - which has a company library attached directly to the space - uses four 8430 IP loudspeakers. "Castrén & Snellman uses this multipurpose facility both as separate areas and sometimes as one large venue, for example for monthly company updates," explains Lankinen. "The main challenge was to provide the flexibility for the customer to realign the layout without compromising reliability and ease-of-use. We solved this by using streamlined mobile screen stands with integrated custom loudspeaker mounts, with embedded AV-over-IP technologies for audio and video distribution combined with 8430 IP loudspeakers with their AES67 streaming capability. The customer can easily move these mobile units into the required position, and everything fires up automatically."
Kurhela confirms that Genelec was ultimately a natural choice: "The stylish, uniform design language, audio quality, versatility and long lifecycle of the speakers were key values for us. The long lifecycle means that we'll be able to re-use the speakers in different solutions following future renovations. As a company we are committed to finding sustainable solutions, so Genelec is a perfect fit for us from that point of view. The fact that they are an internationally renowned Finnish speaker manufacturer was also a plus."
The final word goes to Janne Lankinen, who also appreciates Genelec products from a workflow perspective. "They are very familiar to our technical staff and thus are quick to install. Everything always works out of the box and we receive top notch support from the Genelec factory in Iisalmi. Shipments generally arrive right on time and there are no efficiency losses on site. We are able to deliver high quality, visually aesthetic, reliable solutions that last for years. It's companies like Genelec who enable us to shine at what we do."
Genelec delivers RAW power to B26 co-working space
B26 in Västerås, Sweden, offers 5000m2 of luxuriously appointed space over seven floors for companies to work, do business, meet and create together. With areas for working together, or apart, meeting rooms, a restaurant plus a vast roof terrace with panoramic views, B26 is Västerås's first co-working space and it is world class. B26 called on award- winning Swedish AV integration specialists, JML-System AB to design the high quality AV systems throughout the building. JML- System specified Genelec's new RAW finish 4000 Series installation loudspeakers as the perfect solution for B26's needs.
WE'VE DELIVERED A FLEXIBLE, EASY-TO-USE SYSTEM THAT SOUNDS GREAT BOTH AT LOW AND HIGH LEVELS.
The building that houses B26 was designed in the 1950s by the renowned Västerås architect Sven Ahlbom and bears traces of the industrialization that saw Västerås develop from a small town to the big city it is today. B26 was keen to retain the industrial feel of the space whilst still creating a modern, welcoming atmosphere. Aesthetics were therefore as much a part of the brief as audio quality. JML-System's Johnny Franzén explains:
"We needed to think about design and function as well as cutting edge technology. As B26 is a very new concept, the client wanted assurances that we would not only provide the best of what is available today, but that it would also stand the test of time. We worked on the project for a long time before agreeing on the best way forward."
"Genelec looked like a good solution from the outset, but when it became clear that the RAW finish was available, all the pieces fell into place," he admits.
"Visually, the RAW models with their 'unfinished' natural aluminium casings are a perfect fit for the old factory environment with its exposed bricks and ductwork. The fact that they are environmentally friendly was also a big plus point for B26, as part of their philosophy is to actively reduce their environmental impact."
THE RAW FINISH LOOKS ABSOLUTELY AMAZING AND IT'S AN EVEN MORE ENVIRONMENTALLY FRIENDLY PRODUCT.
Genelec's RAW models require no painting and less finishing material for an even more environmentally friendly solution. The speaker enclosures are already made from recycled aluminium, and the RAW option takes full advantage of the natural beauty of the material to give a uniquely nuanced finish for each loudspeaker. All RAW models feature Genelec's Minimum Diffraction Enclosure (MDE) design, whose curved form delivers incredibly flat frequency response, precise imaging and unparalleled acoustical performance.
Aside from the aesthetics, the technical requirement was for a high quality audio system that would work at low levels during the day but could be turned up after hours to create a club-like, party atmosphere with no loss of quality.
JML-System specified a multi-zone, distributed system based on 42 of the powerful 4040 installation loudspeakers – the largest in the 4000 Series – and 20 of the compact 4020 loudspeakers for the smaller areas. There is also a pair of 8050B nearfield studio loudspeakers that deliver cinema-quality audio for the drop-down projector screen in the main open plan meeting and social space. This space also benefits from a mini- auditorium area complete with a cleverly designed raked seating area.
"We opted for the 4040s in the larger areas as they are sufficiently powerful and develop enough low end that we didn't need to supplement them with subwoofers," says Franzén. "This saved on cost, space and also meant that we didn't have to worry about uneven levels. This can sometimes happen with the use of subwoofers as part of a distributed system in a large space, unless you use a lot of subs, and then you run into the problem of where to put them. However, the 4040s have enough headroom to be used at pretty high levels to generate a real 'club' atmosphere after work, and still sound amazing. The smaller 4020s were perfect for the smaller spaces."
In addition to audio quality, another major consideration for JML-System was the fact that the Genelec 4000 Series loudspeakers are active. "This was important for us as it makes installation a lot simpler," notes Franzén. "We don't have to worry about extra cabling or finding room for amplifiers; everything you need is already in the box, and Genelec has a wide range of mounting accessories that are perfectly suited to most situations."
In keeping with the modern industrial feel of the B26 premises, all of the loudspeaker cables are housed in shiny metal pipework which marries perfectly with the RAW recycled aluminium finish of the loudspeakers. Franzén is delighted with the results. "From an audio perspective, we know we can count on Genelec to deliver the highest quality, and it's the case for B26. In partnership with our subcontractor One4All AB, we've delivered a flexible, easy-to-use system that sounds great both at low and high levels with no hot spots or dead zones. However, I think the real plus for this installation was the RAW finish – it looks absolutely amazing, and it's an even more environmentally friendly product from a Scandinavian company that already ranks very high on the sustainability scale. This was definitely what tipped the balance for B26 who are absolutely thrilled with the results at every level."
Genelec brings a taste of Italy to central Lisbon
Located on the bustling boulevard of the Avenida de República in the Saldanha district of the Portuguese capital, Mercantina Bistro 37 is the third Mercantina restaurant to open in Lisbon. The elegant building was formerly home to Café Cubana, the favourite watering hole of a coterie of Portugal's most famous surrealist artists. Seven decades later, the interior with its striking murals and rich colours designed by architect Tiago Silva Dias, offers echoes of the building's surrealist past. Leading Portuguese distribution and AV integration specialists, Garrett Audiovisuais, designed and installed a sophisticated zoned audio and control system across all areas of the bar and restaurant, based on Genelec 4000 Series installation loudspeakers.
According to Garrett's Alain Pierre who managed the project, Mercantina's owners were frequent clients at JNcQUOI – a prestigious Lisbon restaurant already equipped by Garrett using Genelec loudspeakers – and were very impressed with the audio system. "We were approached by José Bartolomé Duarte, one of the founding partners of the Mercantina brand, who asked if we could deliver a similar experience to JNcQUOI in their own new, high class Italian restaurant," explains Pierre. "We responded to the tender with a Genelec solution which convinced the client to award us the AV contract."
The brief was to create a multi-room, zoned solution to deliver high quality ambient sound throughout the various spaces of the restaurant, as well as the glamourous cocktail bar. The owners also wanted the possibility to create more of a 'club' atmosphere when required, either for Friday and Saturday nights or private parties.
The 4030s sound amazing at low levels and great when you turn it up for more of a party atmosphere.
Four zones were designated in all: firstly, the bar which is served by four powerful 4030 loudspeakers supplemented by a 7050 subwoofer. Garrett also supplied a pair of stereo audio inputs that could be fed from the DJ booth. "The 4030s sound amazing at low levels for the daytime and early evening crowd, but they are powerful enough and have sufficient low end that they sound great when you turn it up for more of a party atmosphere," says Pierre. "When you add the sub into the mix, the whole place starts jumping!"
Garrett opted for six compact 4020 loudspeakers in the main dining area, plus a further 7050 sub for low-end extension when handling DJ performances or other sources. Single 4020 speakers have also been supplied for both Mercantina's semi-private dining area and the private VIP room. A Xilica Neutrino A0816 audio matrix was deployed to define the zones, and level is controlled from a Xilica 7-SM touchscreen. All the other parameters have been pre-defined and locked out to ensure that neither the matrix nor the speaker system will ever be overloaded or overdriven.
"Our biggest issue was dealing with the challenging acoustics, as the restaurant occupies a beautiful old building with high ceilings – it looks good, but it's quite hard to make it sound good!" recalls Pierre. "Ceiling height was definitely an issue, especially in the semi-private area, so we made some EQ adjustments within the audio matrix to correct the acoustic defects in the room. Combined with the room compensation controls situated on the rear panel of each loudspeaker, and of course the exceptional sound quality inherent in all Genelec loudspeakers, we have achieved excellent results."
We have a reliable audio system that complements the aesthetics of the space.
Mercantina founding partner, José Bartolomé Duarte, confirms that the results are indeed all that he'd hoped for. "We loved what Garrett had achieved at JNcQUOI. The whole installation just oozes quality – both aesthetically and from an audio perspective. I wanted the same thing for our new Mercantina restaurant which is aimed at a similar clientele, and I'm pleased to say that Garrett has done a great job. We have a reliable audio system that complements the aesthetics of the space, sounds excellent, and is flexible and easy to use. The results are exactly what we'd hoped for."
Genelec spices up audio quality at The Mill in Malmö
Nordic Choice turned to leading Swedish integrator, Informationsteknik, to design, supply and install the AV systems throughout the hotel. With offices in Stockholm and Malmö, Informationsteknik is one of Sweden's leading suppliers of customised solutions of audio, lighting, and video technology for meeting and conference spaces. Informationsteknik had no hesitation in specifying Genelec throughout to meet the hotel's exacting quality and aesthetic requirements.
The conference rooms are all named after the various spices that are sold at the famous Möllevångstorget market nearby. As a result, each room benefits from its own rich colour scheme according to the spice after which it is named. Cocoa, saffron and cinnamon are just some of the names that have inspired the décor.
"We deliberately chose to invest a little extra in technology in our meeting rooms as we wanted the best possible experience for our guests"
Gustav Rue from Informationsteknik's installation sales department explains that of all the requirements specified in the brief, the need to match the technology with the décor was perhaps the most challenging. "When we were asked to find a comprehensive solution of very high quality, it emerged relatively early on that a decisive factor would be how the technology could be colour-matched to match the interior," notes Rue. "Genelec proved to be the perfect solution, both in terms of quality and aesthetics."
"We selected a variety of models from the 4000 Series of installation speakers depending on the size of the room," he continues. "As far as quality is concerned, their clarity and vocal intelligibility is second to none. They are also incredibly reliable, which is important for a busy hotel conference environment. However, what really made the difference for this project was the fact that we could custom paint the speakers in absolutely any shade to precisely match the colour palette of each space. As you move from room to room, the feeling is completely seamless."
Hotel manager Burim Sumiq is thrilled with the results. "We deliberately chose to invest a little extra in technology in our meeting rooms as we wanted the best possible experience for our guests," he reveals. "We're right in the centre of Malmö and only 30 minutes from Copenhagen so we're ideally placed as a business hub."
"We wanted to focus on sound and speaker experience, but with a special proviso: our conference rooms are really something quite special, each with a unique and carefully designed colour scheme, so it seemed important to us to find a company that could deliver a solution that could match the interior without compromising on sound quality. Our local integration partner, Informationsteknik, recommended Genelec, which I already knew to be a brand that stood for quality and fantastic sound. However, once the speakers were installed and we heard them for the first time, I was literally blown away. The sound was quite simply amazing. Best of all, it didn't need to be excessively loud, the clarity and intelligibility at low volumes are superb, and that is really important for our guests – they don't need to hike up the volume in order to have a great sound experience."
Gustav Rue is delighted to have a happy client. "It's always satisfying when the customer is happy, and in this instance it's not just about the technology – which, in any case, is of top quality – it's about the whole aesthetic experience, and Genelec really came through for us at every level. They are a great partner to work with – always helpful and engaged in our customer's project, and of course, they make great-sounding loudspeakers!"
G Livelab – The future of live music in Tampere relies on Genelec
In the wake of the unmitigated success that is G Livelab Helsinki, the Finnish Musicians' Union has opened a brand new – and bigger – venue in the vibrant city of Tampere, some 200km north of the Finnish capital. The same team was deployed to realise the Tampere project which is built according to the same 'music first' philosophy as Helsinki. The result is an extraordinary live music experience based on quality programming, modern design, and state-of-the-art Genelec audio systems including the ground-breaking new 4430 Smart IP loudspeaker.
Housed in a striking red brick building which was formerly the boiler house of the Frenckell paper mill in the heart of the city, the venue hosts up to 250 people and offers a hugely varied programme including jazz, folk, world music, pop/rock, chamber music, electronic music and more. Akukon Oy designed the acoustics, electroacoustics, lighting, sound, video, communication systems and basic IT structure as well as the rigging systems, as they did for Helsinki, and leading Nordic AV integrator, Bright – another key member of the Helsinki team – brought Akukon's vision to life.
"Genelec was already a tried and tested solution with the first G Livelab project in Helsinki which has had great reviews," explains Bright's Head of Installation, Santtu Sipilä. "People really liked what we achieved in Helsinki, so it was an obvious decision to equip the Tampere club with Genelecs as well."
The biggest difference between the two venues is the space – Tampere is much bigger with significantly higher ceilings. Although this posed certain challenges in terms of acoustic treatment, it also allowed greater freedom for the audio design.
The second notable difference is the use of Genelec's 4430 Smart IP loudspeakers which weren't available at the time of the Helsinki installation.
"We definitely wanted the new 4430s for easier cabling and added control; it's opened up a world of possibilities for us," admits Sipilä. "We have a fully networked system running on Dante – this includes the big loudspeakers used for the main PA – and any of the 4430s can take any signal from anywhere. This means that we can use the same loudspeakers for virtual acoustics, surround sound, background music, delays… the possibilities are endless, and it's enabled us to considerably reduce the total amount of loudspeakers required in order to achieve what we wanted. We are able to make art with loudspeakers and we are not limited in any way in terms of how we can use the system."
Tapio Ilomäki, the project manager for Akukon, agrees: "Our primary objective was the same as for Helsinki: to deliver a high-quality system with high musicality that serves the performer best. However, the versatility of systems and spaces was a key element of the design; modern venues need to be multi-purpose and they have to be able to facilitate these changes as quickly and easily as possible, for optimum functionality and quick return on investment. The use of the 4430s plays an important role at this level as well as offering extremely musical sound with very low distortion."
The ability to have everything delivered over just a single cable is every installer's dream.
Sipilä is also extremely impressed with the PoE (Power over Ethernet) capabilities of the 4430s. "We were really surprised by the SPLs and sound quality from this size of loudspeaker over PoE. We honestly didn't think it was possible, so yes, we're very impressed. The ability to have everything delivered over just a single cable is every installer's dream, so I think that Genelec's Smart IP range will be figuring in a great many of our future designs!"
In addition to the 4430s, the main PA system comprises a pair of 1236 SAM studio monitors, the flagship of the Genelec range, seventeen S360s for surround and delay, a pair of 1238s as the first delay line, and finally a flown sub array of nine 7380 subwoofers. "We didn't have either the height or the space to include subs in Helsinki, so this is a welcome addition in Tampere which gives us some extra headroom in the system and helps add body and fullness to the sound," continues Sipilä.
When you come here to listen to live music, it will most likely sound even better than it did on the record.
Renowned Finnish singer/songwriter, Markus Nordenstreng of Tuomo & Markus and the Latebirds considers G Livelab as his favourite venue for intimate performances. "Some of the best music I have ever heard has been live, but sound quality is often let down by the venue, either through bad acoustic treatment or a sub-par sound system – or both. What you have here at G Livelab is just the opposite end of the scale – for me it's the ultimate live sound experience. When you come here to listen to live music, it will most likely sound even better than it did on the record – you can hear things you never heard before. It would be a great service to mankind if there was a G Livelab in every city around the world!"
The final word goes to Annamaija Saarela, CEO of G Livelab Tampere: "G Livelab isn't just about the technology or the programming – it's about the whole experience of enjoying live music, and I'm proud to say that in bringing together the best of everything and everyone involved, we have achieved a result that is even greater than the sum of the parts. We've had nothing but positive feedback since we opened, both from the public and musicians alike."
Genelec steams into action at new Amerikalinjen Hotel, Oslo
The Amerikalinjen building located in the most central and vibrant part of Oslo has a rich and colourful history. It was inaugurated in 1919 as the headquarters of the Norwegian America Line, a hugely successful passenger and freight shipping company that opened up the New World for hundreds of thousands of Norwegians.
100 years later the architectural landmark has been reborn as one of Oslo's premier urban boutique hotels, complete with a comprehensive Genelec sound system supplied by Norwegian pro audio specialists, Benum. Occupying some of Oslo's most prime real estate, Amerikalinjen - owned by the Nordic Choice Hotels group - has retained all of its authenticity whilst providing today's travellers with a thoroughly modern experience.
You know that once they are in, the client will have trouble-free service for years.
The remit was clear – Amerikalinjen wanted the best possible sound in all areas of the hotel, to match the rest of the high quality services and fittings. The requirement was for four separate areas: reception; the restaurant; the cocktail bar; and the beautifully luxuriant conservatory at the heart of the hotel. Everything should sound extraordinary.
"Genelec was a completely natural choice for this installation," declares Ronald Hernes, Benum CEO who oversaw the Amerikalinjen project. "Firstly, the sound quality is second to none. Secondly, they are active speakers which are therefore easier to cable and install, and there is no need for an amp rack room. Finally, you know that once they are in, the client will have trouble-free service for years. There's no doubt that, for a project of this calibre, Genelec ticks all the boxes." Nevertheless, he recalls that the mission was not without its challenges:
"From an architectural point of view, the building is beautiful with lofty ceilings and large windows," says Hernes. "It looks wonderful, but it's not ideal when it comes to speaker placement. Our main concern was achieving the required coverage with such large volumes of space to cover. In the conservatory, we also had to think about the reflections off the glass roof. Fortunately there's quite a lot of greenery which helps deaden the room a little."
We are getting positive feedback on the sound on a weekly basis.
Benum suggested increasing the amount of loudspeakers in each area in order to achieve optimal coverage and sound quality even at low levels, yet still conserving sufficient headroom to be able to turn up the volume when required for a more party-like ambience.
"We opted for eight of the larger 4030Cs in the cocktail bar to make sure they had enough power for the late-night crowd. For reception, the restaurant, and the conservatory 'garden' we used lots of 4020Cs. Each area also benefits from a pair of 7040A subwoofers (except reception which only has one) to provide a subtle, but critical boost to the low end without
being too physically imposing. In total we installed thirty-eight 4020Cs, eight 4030Cs and seven 7040A subs. Everything is on a Dante network distributed via an Allen & Heath dLive DM0 MixRack which is broken out into analogue at each zone via a Neutrik interface, and then to the loudspeakers via Sonifex active balanced splitters. Each zone is equipped with an A&H IP1 network controller which gives local operators access to source selection and
volume. Finally, we put an A&H IP6 in reception which provides control over multiple zones."
Wilhelm Hartwig, Amerikalinjen's general manager, is delighted with the results. "High quality audio, especially in the common areas, was an early focus," he explains. "We chose Genelec as a premium Scandinavian brand and we are incredibly happy with the results. We are getting positive feedback on the sound on a weekly basis. I've worked at many hotels but I can't ever remember guests commenting on the sound quality before! That is really quite something."
Genelec auttaa luomaan palkitun äänimaailman Uuteen lastensairaalaan
Helsingin Uusi lastensairaala (HUS) on ainoa laatuaan. Vuoden 2018 lopulla avattu, noin 170 miljoonaa euroa maksanut huippulaatuinen yksikkö hyödyntää taidetta ja leikkiä yhdistettynä uusimpaan digitaaliseen teknologiaan. Tällä yhdistelmällä saavutetaan parasta mahdollista lääketieteellistä hoitoa paikassa, jonka lapset ja heidän perheensä voivat kokea turvalliseksi ja luotettavaksi.
Yksi osa sairaalan innovatiivisesta suunnittelusta on koko rakennuksen laajuinen äänijärjestelmä, joka tuottaa potilaille ja henkilökunnalle rauhoittavan äänimaailman. Äänimaailma on täysin verkotettu 39:n Genelecin 8430A IP -kaiuttimen ansiosta. Äänimaailman suunnittelutyö palkittiin Grand Prix - palkinnolla äänimaailma- ja ambient-kategoriassa vuoden 2019 International Sound Awards (ISA) -palkintogaalassa Hampurissa.
Idea äänimaailman takana oli luoda jokaiselle sairaalan kahdeksalle kerrokselle niiden visuaaliseen ilmeeseen sopiva ääni. Inspiraatiota haettiin pääosin luonnosta sekä rakastetuista Muumi-tarinoista. Aalto-yliopiston Sound in New Media -ohjelman johtaja Antti Ikonen sekä kymmenen ohjelman maisteriopiskelijaa olivat vastuussa jättiläismäisestä työstä äänimaailman takana.
"Jotta stressiltä ja ääniin väsymiseltä vältyttäisiin, teimme lisääntyvän äänimaailman kiertävän sijaan", Ikonen kertoo. "Kaikki äänimateriaali on tallennettuna yhdelle tietokoneelle joka luo ja renderöi äänimaailmat ennen niiden syöttöä eri kerroksiin ja osastoihin sairaalan IP-verkon kautta".
"Äänimaailman suunnittelu alkoi jo ennen kuin sairaala oli rakennettu", hän jatkaa. "Keskustelimme arkkitehtien, lääkäreiden, sähköinsinöörien, IT-ammattilaisten ja Genelecin kanssa siitä, miten voimme toteuttaa näin kokonaisvaltaisen teknologisen järjestelmän. Tilan täyttävän taustamusiikin sijaan ajatuksena oli luoda lapsille miellyttävä, lähes huomaamaton äänimaailma joka ei myöskään häiritsisi hoitajia tai muuta henkilökuntaa".
Kaiutinasettelu oli olennainen osa suunnittelutyötä. Asettelu otettiin huomioon jo projektin alkuvaiheissa, joka mahdollisti kaapeloinnin ja infrastruktuurin suunnittelun itse rakennukseen. Äänimaailma tuotetaan 39:n Genelec 8430A IP -kaiuttimen ja kymmenen AIC25-kattokaiuttimen kautta sairaalan tiloihin aina maanalaisesta parkkihallista ylimpään kerrokseen saakka. Äänimaisemaa toistavat kaiuttimet on tarkoituksella jätetty pois erityisistä tiloista, kuten hoitajien työtiloista, potilaiden huoneista, leikkaussaleista ja kokoushuoneista.
"IP-verkossa toimivien kaiuttimien käytössä on se erittäin suuri etu, että kaiuttimen ja äänilähteen (tässä tapauksessa Apple Mac Pro, joka ajaa ääniohjelmistoa) välille ei tarvita perinteisiä äänikaapeleita. Ilman IP-verkkoa järjestelmä olisi vaatinut satoja metrejä äänikaapelointia ja se olisi ollut paljon herkempi monenlaisille häiriöille", Ikonen selittää. "IP-ääniverkossa signaali käsitellään datana tietokoneverkon verkkokaapeleiden kautta. Toisin sanoen, äänijärjestelmä hyödyntää jo olemassa olevaa verkkoa, joka luonnollisesti on todella paljon kustannustehokkaampaa. Ja mikä tärkeintä, signaaliketju ei kärsi lainkaan ja ääni voidaan uudelleentuottaa täydellisesti".
Jon-Patrik Kuhlefelt, Sibelius-Akatemian ääniteknikko ja digitaalisen äänen erityisosaaja, toimi myös isossa osassa äänimaailman teknisessä ja sisällöllisessä suunnittelussa. "Järjestelmän sydän on Mac Pro -tietokone joka ajaa Max/MSP patchia", hän kertoo. "Focusriten REDNET PCIeR -äänikortti Mac Pro:ssa syöttää Dante-teknologian avulla ääntä BSS BLU-806DA DSP-prosessoriin, jota hyödynnetään lähinnä kaiuttimien mykistämiseen mahdollisen tulipalon sattuessa. Prosessorin ulostulot syötetään Genelec 8430A IP -kaiuttimiin AES67-standardia hyödyntäen. Focusrite REDNET AM2 -äänikortti taas syöttää äänen AIC25-kaiuttimiin".
Genelec oli täydellinen kumppani Uuden lastensairaalan äänimaailman kaltaiseen kunnianhimoiseen ja haastavaan projektiin.
Kuhlefelt korostaa myös sisäänrakennetulla vahvistimella varustettujen aktiivikaiuttimien hyötyjä. "Koko rakennuksessa on lähes sata Genelecin kaiutinta. Äänimaailmaprojektin kaiuttimien lisäksi sairaalassa on myös yli viisikymmentä 4000-sarjan kaiutinta, joista suurin osa on kompakteja 4020C-malleja. Nämä kaiuttimet on sijoiteltu kokoushuoneisiin ja konferenssitiloihin ympäri sairaalaa. Ilman aktiivikaiuttimia olisimme joutuneet asentamaan todella monta vahvistinta!", hän toteaa.
Antti Ikonen toteaa lopuksi: "Genelec oli täydellinen kumppani Uuden lastensairaalan äänimaailman kaltaiseen kunnianhimoiseen ja haastavaan projektiin. Kaiuttimien lisäksi Genelec tarjosi äänisuunnitteluryhmälle neuvoja teknisissä ongelmissa, joiden esiintulo oli väistämätöntä tämänkaltaisessa pioneerityössä. Olemme kaikki erittäin ylpeitä saavutuksestamme ja toivomme, että se toimii esimerkkinä monille tuleville projekteille".
Genelec Provides Muscle for SPR Athlete Factory
A powerful blend of Genelec products delivers exemplary audio performance at leading martial arts gym in Sweden.
The SPR Athlete Factory is a premium gym in the heart of the Swedish capital of Stockholm, specialising in functional physical performance training, or body mechanics, and high-level martial arts. Founder, Waldo Zapata, was keen to create the best possible environment for his athletes, both during their training sessions as well as before and after, and this included a state-of-the-art sound system based on Genelec's 4000 Series installation loudspeakers installed by systems integrators, MA Ljud & Bildmontage - who had already installed a Genelec system into Zapata's first gym in Södermalm.
"As with the first venue, our primary objective was to ensure a consistently good audio performance throughout the building," says Morgan Askeholt, owner and founder of MA Ljud & Bildmontage. "One of the main reasons for selecting Genelec initially was the impeccable sound quality, and the fact that you know that they will continue to deliver that quality for many years to come. I particularly appreciate the Directivity Control Waveguide technology which enabled us to deliver a flat frequency response for excellent sound both on- and off-axis. This was important for the Södermalm installation which, as a retro-fit, meant that the positioning of some of the speakers was not perhaps as we would've liked. However, for the City venue, we were able to integrate the audio design into the build, which means our results were better still."
"The best sound is what you feel and experience without it being an intrusion or a distraction."
Nevertheless, the acoustic environment in any gymnasium is a challenging one, and the new city centre SPR Athlete Factory was no exception with a large amount of hard, reflective surfaces, including stone. "My goal was to fill the respective sound zones with the right number of speakers to ensure that the system can be heard everywhere, even at low levels, despite the challenging environment," explains Askeholt. "The best sound is what you feel and experience without it being an intrusion or a distraction."
A total of nine zones have been set up on the premises, facilitated via Sonos CONNECT players. Mono summing adapters were used with every Sonos player in order to provide a mono signal to all the Genelec speakers. As the Sonos units don't have a designated subwoofer output, Askeholt used the bass management feature of Genelec's 7040A subwoofer to resolve the issue. The result is that music can be easily streamed and played in different zones through the entire Genelec speaker setup, providing outstanding audio clarity and precision.
In the larger areas such as the gym and the MMA (Mixed Martial Arts) combat area, Askeholt opted for Genelec's powerful 4040A active loudspeakers, and thanks to their impressive low frequency performance there was no need to install additional subwoofers - saving space and ensuring a more streamlined setup. The 4040A's phoenix-type connectors made installation straightforward, allowing them to be daisy-chained together.

"The fact that they are all active is a big bonus as it simplifies installation and saves space."
A combination of 4030C and the slightly smaller 4020C loudspeakers are used throughout the rest of the facility including the juice/coffee bar, the locker rooms, and reception - which also features a Genelec 7040A subwoofer to reinforce the low end. "The volume in the reception area needs to be at very low levels, so the addition of a subwoofer helps to improve the sound considerably," explains Askeholt.
"In addition to their excellent sound quality, Genelec's 4000 Series installation loudspeakers offer a number of other benefits," he continues. "The fact that they are all active is a big bonus as it simplifies installation and saves space, since we don't have to find room for an amplifier rack. There is also a very wide choice of mounting accessories making it very easy to adapt the installation to the constraints of the room. The results across both gyms have been excellent, both from an audio point of view, and also the experience of working with Genelec equipment. I shall definitely be specifying Genelec loudspeakers much more for commercial projects in the future."
Genelec delivers premium audio to renowned Nordic consultancy HQ
The company has recently transformed an old red brick factory building into their new Miltton House headquarters in Helsinki. High quality audio visual technology naturally plays a key role in the new venue. Systems integration specialists, Digisähkö Oy, who were charged with designing and installing the AV systems, selected Genelec loudspeakers throughout, for a premium audio experience.
Designed as a physical meeting place and an inspiration hub as well as a workplace for Miltton's talent and its stakeholders, high quality AV systems were a priority from the start. "The investment in Miltton House represents the next phase in Miltton's growth story," explains Camilla Linniemi, Partner & Director at Miltton Group. "The ways of working are under constant change and the best ideas happen when people connect in a meaningful way." To that end, in the early stages of the project, Miltton engaged top acoustic consultants and AV designers, Akukon Oy, to come up with an initial design, which was then developed and refined by Digisähkö as the project progressed.
They are extremely aesthetic, so they blend well into every environment, and so very easy to install.
"Akukon had specified that the speakers should be 'separate, high quality active loudspeakers,' so as far as we were concerned, Genelec was the obvious choice," relates Digisähkö CEO, Jani Hirvonen. "The brand is synonymous with quality and matched all of Miltton's criteria concerning sustainability. It was a very easy decision."
Digisähkö installed a total of 50 loudspeakers from Genelec's 4000 Series installation range throughout the building. 42 compact 4020 speakers equip Miltton's wide variety of meeting and conference rooms. Two of the more powerful 4030s grace the company's airy entrance lobby whilst a pair of the heavy-hitting 4040s are reserved for the demo room. "The 4000 Series loudspeakers make life very easy for us as an integrator," confirms Hirvonen. "They are extremely aesthetic, so they blend well into every environment; they are active loudspeakers, and so very easy to install; there is a good range of mounting accessories; and of course, they sound fantastic with incredible clarity and detail, even at low levels."
We asked for a design that would combine flawless audio quality with sufficient power and coverage.
However, there was one area where Miltton had very specific – and high-level – requirements, and that was for their 350m2 event space in the heart of the building, known as Tori. Designed for events of up to 500 people, the space is easily adaptable for the style of the occasion – from cocktail parties to seminars – with seating for up to 300 people. The audio system needed to be similarly versatile with the ability to cater for everything from a DJ or live band to seminar material.
"The requirement was clearly for a high output, high fidelity sound system with connections for a DJ mixer, which is a very different animal from a conference room system," notes Hirvonen. "We asked Henri Ulmanen at Genelec to come up with a design that would combine flawless audio quality with sufficient power and coverage to fill the space with no hot spots or dead zones."
Ulmanen decided on a main system of two S360 smart active loudspeakers supported by two powerful 7380 subwoofers for low end reinforcement, supplemented by four 4040 loudspeakers (two per side) as delays/sidefills. "I decided on the S360s because of their excellent, neutral reproduction and a long-throw capability that delivers reference-quality accuracy at listening distances of over 10 metres," explains Ulmanen. "Combined with the 7380 subs they are an excellent solution for any environment looking for premium quality, high SPL vocal and music reproduction in a compact form factor.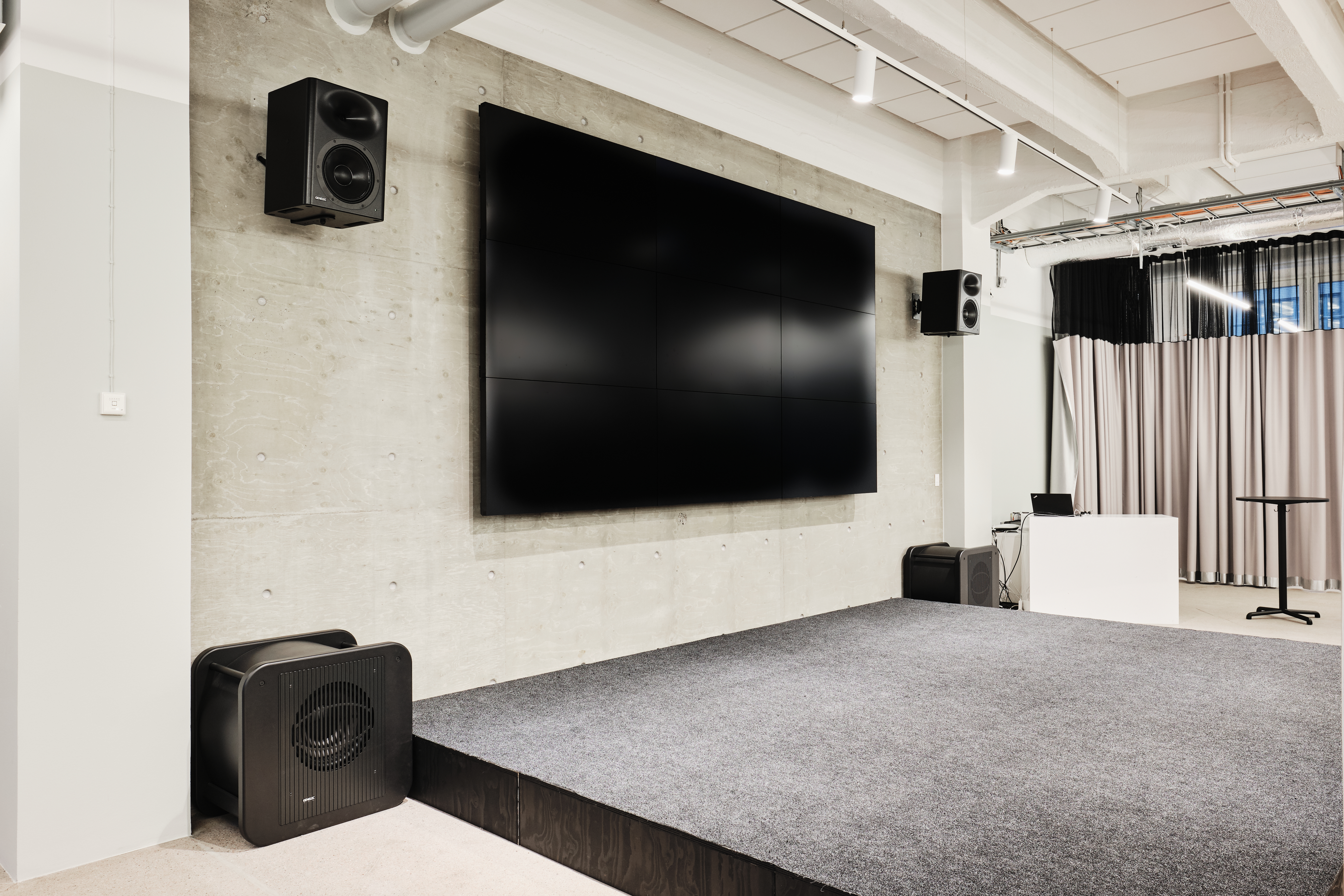 "Another important element was the fact that, as a smart active loudspeaker, we can use our GLM software to configure and optimise the S360s to compensate for any detrimental room influences," he continues. "The Tori event space has a pretty industrial feel with concrete floors and lots of floor-to-ceiling windows, so this was very helpful in ironing out anomalies, especially when the room is being used at full capacity."
All of the AV systems and the Helvar Dali lighting throughout the building are controlled by the Control4 automation system, via individual touch screens in each of the meeting rooms and the Tori event space for easy operation. Digisähkö implemented the integration between the systems as well as the installation of all of the AV technology.
"We're very proud of this installation and Miltton are thrilled with the results," said Hirvonen. "They wanted a modern, high quality, sustainable AV solution that is versatile, easy to operate, and reflects their values as a company. Genelec ticked all the boxes and integrates perfectly into the total solution. It's a great success all round."
Genelec leaves visitors spellbound at HEX! Museum of Witch Hunt
As Denmark's oldest town and home to Maren Spliid, the country's most famous witch, the setting is ideal for a museum that aims to tell the stories of these witches - who they were, why they were so feared, and the myths and superstitions that surrounded them. In order to create the best possible visitor experience, HEX! turned to the exhibition designers and museum technology experts - led by Johan Ahrenfeldt - at the famed Moesgaard Museum. Having recently used Genelec's Smart IP technology with great success on one of their own recent exhibitions, Ahrenfeldt had no hesitation in recommending it for HEX!
"We wanted to create a complex soundscape for the various stories being told in each of the nine exhibition rooms," explains Ahrenfeldt. "However, the building itself posed a few challenges as it's an old listed building in the centre of Ribe. While this definitely adds to the atmosphere, it's not ideal for audio-visual installations! Many of the rooms are quite small with low ceilings, so it was important that the technology remained as unobtrusive as possible, whilst nevertheless delivering a high quality experience. Genelec's Smart IP loudspeakers were therefore an obvious choice.
Smart IP technology is a godsend to those of us who work in architecturally sensitive environments.
"Smart IP technology provides power, audio and control all over a single network cable, and is a godsend to those of us who work in architecturally sensitive environments - HEX! is a case in point," he continues. "Furthermore, we know that Genelec is a guarantee of superlative audio quality, even at low levels, which was a requirement in this instance due to the intimacy of the environment and the proximity of the loudspeakers to the audience. Our aim was to provide linear and detailed sound reproduction that allows visitors to lose themselves in the experience without feeling overwhelmed."
The sound design was created by the composer Søren Bendixen of Audiotect, who specialises in creating soundscapes for exhibitions. The design was prepared in the studio but mixed on-site in an iterative process. The onsite use of the Spat Revolution software engine in the mixing process made it possible to map the sound designs and adapt and benefit from the specific speaker placement in the exhibition rooms - independently of standard audio formats. Ahrenfeldt utilised a total of thirty-six 4420 Smart IP loudspeakers across the exhibition rooms supplemented by six 4020 and four 4010 installation loudspeakers and a compact 7050 active subwoofer.
"Each of the nine rooms is set up as a separate zone," explains Ahrenfeldt. "The zones are managed and controlled via the Smart IP Manager software, which has proved both easy and efficient. We're using QLab software and a Dante-compatible RME Digiface interface to control the 47 discrete channels and feed them to the Dante network. The playback by QLab is triggered by the main show control.
"As the rooms are all adjacent to each other with open doors, the audio separation between the zones is very poor. We needed to turn this obstacle into an opportunity. By considering the overall sound design as a composition of nine separate yet interconnected designs, the result is an auditive experience that both facilitates the mood in each individual room as well as providing a more holistic listening experience throughout the museum as a whole."
Sonically, their superb definition and crystalline intelligibility offer a truly immersive experience.
Ahrenfeldt believes that the best audio in this type of visitor attraction is the audio that registers almost subliminally. "The last thing you want is for the soundtrack to start playing and people's attention being instantly drawn to the source. Ideally, we don't want people to even notice that there are loudspeakers in the room at all. Genelec's Smart IP loudspeakers help us achieve that thanks to the minimal cabling infrastructure which reduces cost and makes for quicker, tidier and more flexible installation. Also, Smart IP's harmonious design enables them to blend into any environment, with the useful ability to dim the on/off LED indicator on the front of the loudspeaker. Sonically, their superb definition and crystalline intelligibility enable us to create audio designs that offer a truly immersive experience and bring the exhibition to life. For HEX!, the Smart IP series was an obvious choice that helped us overcome a number of obstacles and deliver a world-class audio experience."
Travel, food, creativity and Genelec create the perfect Combo!
Here, travellers are greeted by airy common spaces, a trendy bar and eatery, relaxed work spaces with free wi-fi, as well as several dedicated event, exposition and meeting spaces. There is also music throughout most of the common areas, thanks to a Genelec sound system. This is Combo, a meeting point for contemporary globetrotters, or indeed anyone that just fancies dropping in.

Photography by: Pepe Fotografia
Far more than the hostels of old, Combo bills itself as a cultural hub and a meeting point for citizens of the world, combining hospitality with music. The hostels in Turin and Milan boast their own radio booths, which broadcast full time in the hostels and online, and all sites offer rooms equipped with AV technology to host talks, screenings, live sets, listening sessions, art workshops and more. The AV systems across all three sites were conceived by Italian AV specialists, ADVICTED, and supplied by local Genelec AV distributor Prase Engineering.
Combo's reception, restaurant, bar and public areas all boast a Genelec sound system based on the ubiquitous 4000 Series installation loudspeakers. These active loudspeakers were specifically requested by ADVICTED founder, Salvatore Brigaglia, for their combination of clean Nordic design and characteristic crystal clear sound, and welcomed by architect Ole Sondresen – whose designs are focused on an all-encompassing, holistic approach to sustainable building. In order to give the musical soul of Combo's philosophy an eye-catching visual form, dozens of 4030 and 4040 loudspeakers were chosen in black, whilst a number of smaller 4020s were selected in white.

Photography by: Claudia Zalla
"Genelec was an all-round quality choice," says Salvatore Brigaglia. "The surprisingly clean and minimalist design, combined with solid construction and impeccable audio performance, enhances the interior design choices and translates the Combo philosophy into sound. Moreover, choosing an active speaker translates into significant cost savings and optimisation of the space in the technical rooms. These are crucial aspects in a project designed to be replicated in several locations."
Across the three sites, ADVICTED utilised a total of twenty-three compact 4020s, fifty-five 4030s and forty-one of the powerful 4040 loudspeakers, all on a dedicated Dante network infrastructure built on X440-G2 Extreme Networks switches and a Biamp Tesira SERVER equipped with a Dante card. Genelec speakers serve all of the conference and multi-purpose event rooms, which are equipped with state-of-the-art AV presentation technology. They also serve as monitors in the radio booths in Turin and Milan, where Combo's playlist is developed every day by the radio web team and tailored to the time, mood and events of the day.

Photography by: Formentini Zanatta
"The entire Combo audio system is on the Dante network," clarifies Luigi Schiavone, Combo Project Manager for Prase Media Technologies. "The result is a building capable of continuously changing shape from a technical point of view, with future-proof flexibility and scalability."
According to Brigaglia, Genelec fits perfectly into the Combo landscape. "Firstly, from a quality point of view, it's hard to do better than Genelec," he says. "That goes for audio quality, build quality and aesthetics. Then there is the issue of sustainability, which is important for Combo. We know that a Genelec solution will last for decades, and still sound as good as the day it was put in. They are also made from recycled aluminium for a reduced carbon footprint. As active speakers, they are easy to install, and the 4000 Series models benefit from onboard room response controls which enable us to optimise the sound in each space. Finally, they are easy to integrate into a multi-site, multimanufacturer, networked solution with centralised control and monitoring. Combo are thrilled with the results and we are looking forward to rolling out new venues in other Italian cities soon."

Photography by: Claudia Zalla
THE KIT
Venice
Turin
8 x 4020C
17 x 4040A
27 x 4030C
Milan
4 x 4020C
8 x 4040A
28 x 4030C
Main photo: Formentini Zanatta